SUMMARY: Title chase this weekend, plus: What's the right number of dogs?
If all works well, this post will post itself while I am off having the time of my life making perfect weave entrances at the SMART USDAA trial in Prunedale. And working the score table. And maybe participating in:
Boost getting a Jumpers and a Standard leg to finish her MAD.
Tika getting a Steeplechase Q to finish her Tournament Master Gold.
Boost getting a Steeplechase Q, too, which will put them both halfway to qualifying for Nationals in the Big S.
Tika getting a Grand Prix Q, too, which will put her halfway to qualifying for Nationals in the Big GP.
Tika getting a Snooker Q to complete her Snooker Silver.
No, I don't really have anything I want to accomplish this weekend; why do you ask?
So, in case none of my dogs achieve anything this weekend and I need to replace them with something more qualifiable, let's talk about
What's The Right Number of Dogs?
An agility friend is seriously in the midst of probably most likely adopting a third dog, first time she's done that (two was a leap, I believe), so wanted my opinion, me being an absolute wealth of useless, ambiguous opinions, and I agreeably rambled on about it. Here's my updated response, with photos.
One dog, December 1978 through August 1981
Amber joined me as a puppy. We were happy together. I took her many places with me. It's easy to travel with one dog. It's easy to play with one dog. One dog fits well into small spaces. It's easy to do training with one dog. And when all the Mystic Mints disappear from the box or there is poop on the carpet you know whom to talk to about it. And Amber was generally a Good Dog who generally came when called and stuff like that. Plus she'd hold a biscuit on her nose.
Two dogs, August 1981-July 1992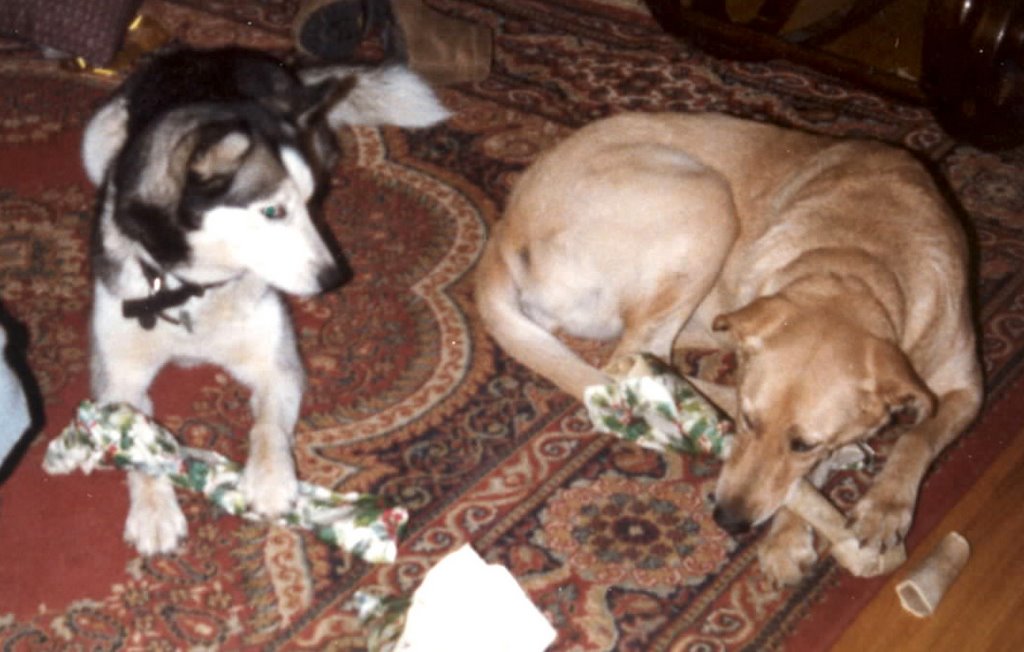 So I got married and figured that two people needed two dogs. Well, the new dog was very sweet but did NOT come when called and did NOT play and did NOT have any interest in doing training and could not hold a biscuit on her nose even if stapled it there (editor's note: Stapling is just a metaphor, no actual staples were used). At least Sheba and Amber got along--once in a while they'd chase each other around the yard, and they'd take turns eating from the same bowl even though we conveniently provided them with two independent bowls with actual food in both.
Sheba was not much fun to travel with and she always had to be on leash, always, or she would end up in Sheboygan. So we didn't go places with the dogs much. But at home one or the other was usually doing something entertaining, or being cute, so when one was slacking off and just hanging out, the other would gamely amuse us somehow. But if the carpet was torn to shreds, we couldn't ever be certain who was responsible, although we had a 99% probability guess on that one, SHEEEba!
One dog July 1992-May 1994
When Amber died, it just about broke my heart. This is one disadvantage of having dogs. They die. They break your heart. If you have one dog, they don't do it as often as if you have two or more dogs. The number of dogs dying seems to be proportional to the number of dogs in the family. I realized now that dogs die and furthermore, Amber died, and I would never be able to have another dog like her again and so why bother. Plus there was always dog hair everywhere and dust and dirt from the dogs everywhere and I was just tired of it, and Sheba was 11 anyway so if we just waited for her to die, which would undoubtedly be soon, then I could have a clean house again and no carpet ripped up and no spots on the lawn all the time and no worrying about dogsitters when we went places without the dogs, which was often.
Two dogs, May 1994-January 2002
When Sheba had rambled on to 13 and showed no signs of slowing down for or even being within a hundred miles of the exit from the highway of life (more metaphors, are you impressed?), it suddenly struck me that my own life would be very, very, very empty indeed if there were no dog in it, plus since Sheba did NOT play and did NOT hold a biscuit on her nose, she often bored me to tears, and wanted a dog who would be more doglike in those particular ways rather than just shedding everywhere and occasionally escaping and trying to thumb a ride to Sheboygan. And within a month, Remington came home.
Sheba was not happy about it. It was no longer easy to snuggle with both dogs, because one would be pissy about it. They did not share food bowls. Remington was generally a Good Dog but if we left him at home and took Sheba for a slow elderly walk, he shrieked, and if we left Sheba at home and took Rem for a brisk youngster walk, she'd be gone when we got back.
But, oddly enough, Sheba took one look at the young whippersnapper doing tricks for treats, and she wanted to, too! So the dog I had failed to teach even to sit when she was 3 learned, at 14, to sit and lie down on command, to shake, and to hold a biscuit on her nose! I loved it! And for the first time I really appreciated how dogs can affect each other in ways that are good for me. So maybe having more than one dog was a Good Thing.
Then I discovered dog agility. Rem went many places with me and learned many things. But Sheba was too old for that sort of stuff and her health was starting to fail. Meanwhile, "All my FRIENDS have two agility dogs, can I please please please, really, I'll take care of them!" The spouse wasn't smitten with the idea of three dogs (two dogs, two people, remember?), but meanwhile Jake became available and I really really wanted him to come home with me.
When Sheba died at 17, Jake was in our yard within a week. And we started doing agility.
So I discovered--duh--it's blatantly twice as expensive to have two dogs when you're competing in agility. It's not just twice the food and twice the basic vet bills and so on--it's twice the weekly lessons (money and time), twice the training in the yard (time), twice the entry fees (money), twice the work at a trial (pottying, warming up, cooling down, planning different handling strategies or courses because they run differently and have different strengths and weaknesses).
On the other hand, if one was injured, the other was still running. If one was having zero-qualifying weekends, the other was doing SOMETHING right so I wouldn't sink into a self-pitying pit of rancid despair (not quite worked into a blatant metaphor but close enough). So there were definitely advantages.
And, for two Basically Good Dogs, walking two dogs wasn't too hard, snuggling two dogs wasn't too hard, training two dogs wasn't too hard because one would wait when told.
But these two dogs despised each other. Fights were too common. It was extremely unpleasant. Plus they were boy dogs, so instead of making dead patches on my lawn, they peed all over the sides of things. And, once one did it, the other had to, too.
Three dogs, January 2002-March 2003
Both dogs were getting older. Jake had arthritis in his back. I figured that neither of them had more than a couple of good agility years left. I wanted to bring a third dog on board so that I wouldn't be left without an agility dog. After a divorce (really only very little to do with the dogs), and the purchase of a new Agility House, Tika came home with me.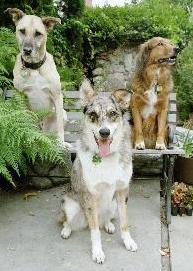 Jake was grumpy about it, but Tika knew how to keep out of his way. It was a lot of fun having a new dog to teach from scratch to avoid making all the training mistakes I had made with the first two. I really enjoyed getting started with her, although, boy, training classes for THREE dogs was quite a wallet-unloader.
I used to go for nice peaceful mile-long walks every day with Jake and Remington, but Tika was a tremendous handful. I did it anyway because the other two dogs were manageable, but it became a bit stressful trying to walk her, too.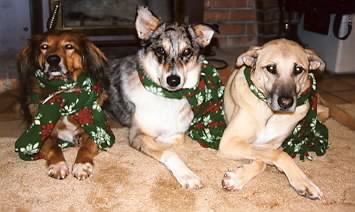 Tika entered her first trial with one run the same weekend that Remington first showed obvious-enough signs that something was wrong with him, so I never did have complete entry fees for three full dogs at a single trial, but my two "elderly dogs" up to that point (Rem 9, Jake 11) were still competing just fine so it could have gotten quite pricey--and REALLY busy--at trials.
But now I could take one dog for a walk at a time and not feel guilty because there'd be two dogs at home together. This didn't stop them from complaining about it, but I always felt much better that they were together. This way, I could work on Tika's leash-training by herself, could walk an ill Remington by himself, could walk Good Dog Jake for just a nice relaxing peaceful walk by ourselves. There were advantages to three dogs.
Plus, the things that Jake and Remington both did well at (not running out the front door, for example), Tika seemed to notice and learn from. (She was not so good at it later after Rem died, so actually having TWO other experienced dogs in the house was a very good thing for a rambunctious youngster.)
But three dogs on the bed was a real mess, especially with the two boys being picky about their personal space. I tried to train Tika to sleep in a crate off the bed, but my training failed--on me. So I had to manipulate myself all the time to sleep around 3 dogs on a king sized bed who didn't want to be within 3 feet of each other.
Two dogs, March 2003-2004ish
So, after Remington died, I discovered again how much I liked having two dogs. One on either end of the bed. One on either side of me for snuggling. One per hand when out walking. Two at a competition was plenty.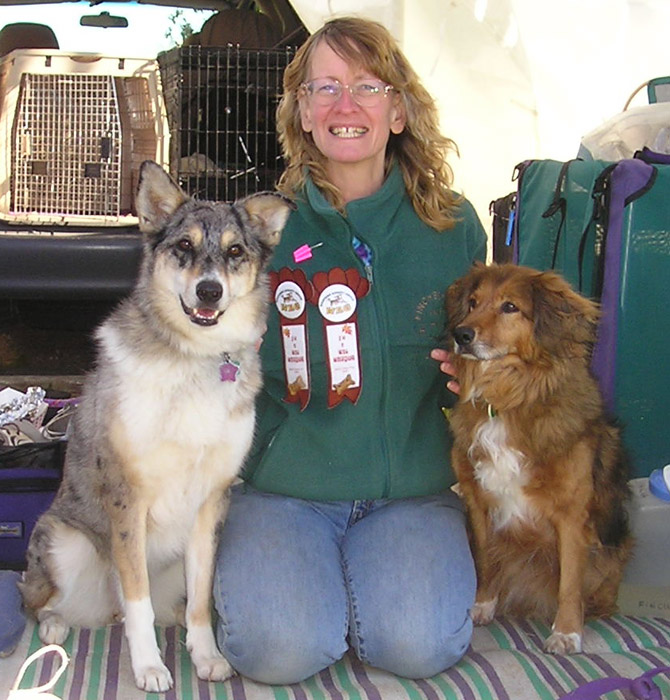 Three dogs, 2004ish-2005ish
And then I got a renter housemate who had a dog, too.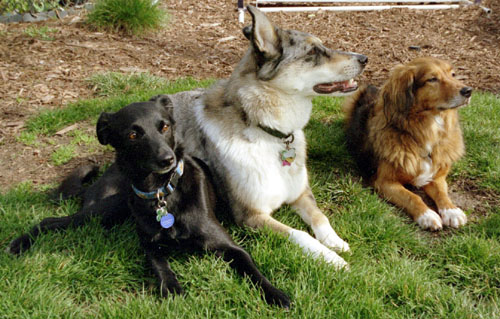 This actually worked out well, because I could play with and even dabble in agility with the third dog, but then turn him over to his mom for vet bills and feeding and walking and grooming and all that stuff.
Jake, whom I thought would have retired from agility years ago, kept going and going, but I knew that at his age (13ish), it couldn't last forever, and then I'd be down to only one agility dog again, and that's a terrible thing (what if one is injured? Then I'd have NO agility dogs!). I had thought that I might make little black Casey my 3rd, but then they moved out.
Two dogs briefly in 2005
When Casey left, Tika was already 4, and I figured it was time to bring in a 3rd dog again. It was a hard choice from a living perspective, though, because I REALLY liked having just 2 dogs everywhere except for competing at agility trials. But, still, Boost joined us shortly thereafter.
Three dogs April 2005-Feb 2007
Once again, I delighted in teaching my young new dog all kinds of wonderful new things. A puppy is a challenge, but also a joy in seeing her catch onto ideas.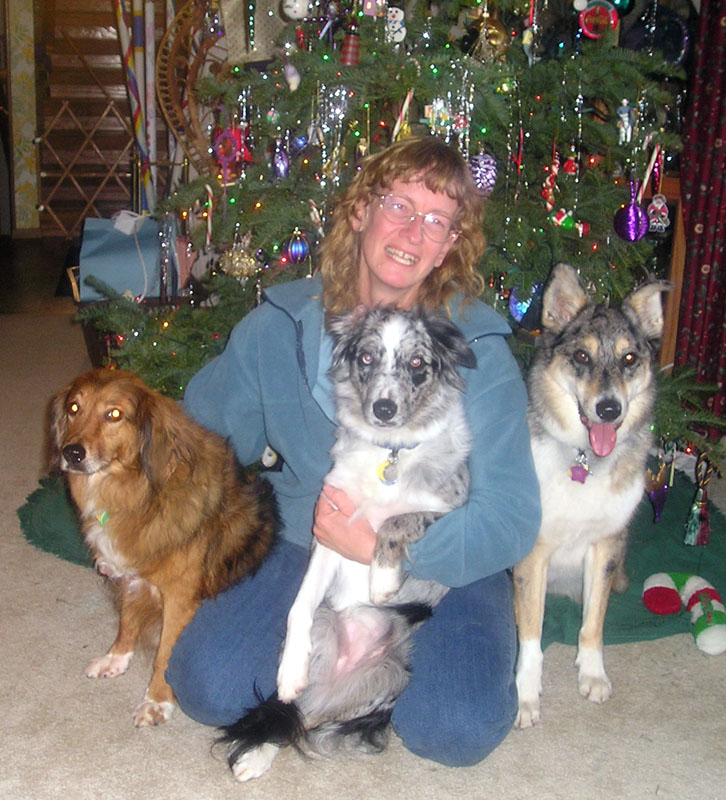 But three dogs are harder. Harder to line up for photos. Harder to snuggle with--you just cannot do 3 simultaneously. More gear to carry and more space taken up at agility trials. One dog you can tuck in almost anywhere. Even with two dogs, you can get by without your own canopy if you're clever. But with three dogs, you gotta have the whole shebang (not to be confused with Sheboygan).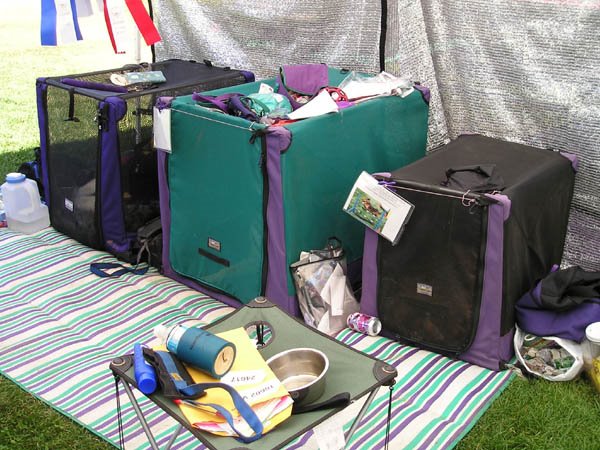 Harder to sleep with and manage in hotel rooms and vehicles. Two crates fit neatly across the back of the minivan, but not 3.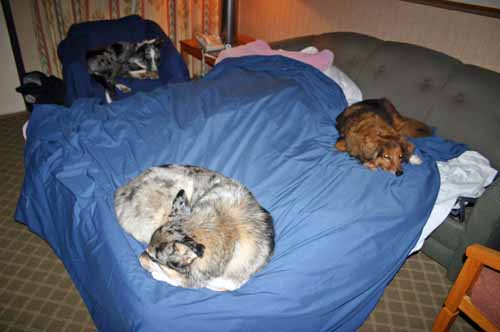 Two dogs Feb 2007-present
Abruptly, I found myself again with only two dogs. Sure, I missed Jake, but I don't miss having the three dogs. Except when I want to walk one dog at a time, or take one dog somewhere, I don't feel comfortable leaving the other dog home alone, so I am doomed to always have two dogs with me wherever I go. Don't like that part.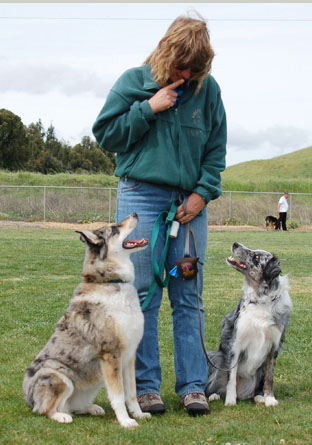 General discussion about how many dogs
First, I think that if you have found a dog that seems right to you and you have the time and energy for another dog, you should take him/her home. I've looked at so many dogs and thought "welllll allllmost but not quite," that I value it when I have a take-home response to a dog.
Second, I find two dogs much easier than three. I can walk 2 dogs at a time, pet 2 dogs at a time. Three dogs--depends on the dogs--gets to be a challenge, because now you're using one hand to manage two dogs. Some people just never do that--I've talked to folks who always just walk one dog at a time, whether "out for a walk" or just pottying at a trial. Tika is a tremendous chore to walk with. I managed it with Jake and Remington because they were pretty good on leash, but I find that her bad habits on leash tend to drift over to Boost and the thought of adding a 3rd dog to this mess deters me. So some of that really does depend on the dogs.
However, I also have the question lingering all the time about what happens when my current dogs get older, from an agility perspective. One answer would be to drop out of agility for a while. Sometimes I feel like I'm ready to do that. Sometimes I don't. Assuming that I'm still in an agility frame of mind, in 3 years, Boost will be 6 and Tika will be 10 and I'd want to start thinking about a puppy or young dog that year. I'm guessing that Tika won't be competing when she's 11 or 12. But I've been fooled before (witness Jake at 15). If I *don't* get a 3rd dog, and if these guys live good long healthy lives, let's say Tika dies at 15, boost will be 11 and might not be competing, either. That could be a long dry spell w/out competition.
On the other hand, having only one dog competing would be considerably less expensive. :-)
Somehow I've managed to keep 2 dogs competing most of the time. Tika had just attended her first couple of trials when Remington got sick and died, so I had 3 dogs entered in maybe 2 or 3 trials. Boost had just attended her first couple of trials when Jake suddenly went. At trials where I've had only one dog to run, it has been both relaxing and boring. And one or the other of them usually does *something* well, whereas back when I was one-dog with Remington and he didn't do well (which was often), it really bummed me.
Jake and Remington fought. I hated it. I don't miss that part, but that was the same whether I had just them or added Tika. But I wonder how I'd have felt if, say, I'd already had Rem and Tika and then added Jake. Dunno.
Adding Boost to the Tika/Jake combination was both good and bad. Jake was a grouch but there was something about the way Tika handled his snarfs that made them cautious partners. Tika's the only dog that Jake would play fetch around, and she'd run in and scoop up his toy or ricochet off him half the time and he usually let her get away with it (after a 2 or 3 month adjustment period, at least). And he'd imitate what she did and follow her around, and she'd pay attention to things he did to earn rewards. They were never friends, though. Tika loved Boost. They play with each other regularly. Jake hated Boost and she really felt the brunt of it, being a puppy. I tried to keep them apart but sometimes I just slipped up and he'd be all over her. And I don't know how much of it was because she was a puppy, because she was new, because she didn't know how to deal with him like Tika did, because he was jealous in his own weird way at her taking time from Tika, or because he could.
I am one of those sort of ambiguous dog people. I love having my dogs around. I am so tired of the dirt and the hair and the overhead. I would really miss not having a dog around. I might actually enjoy living without dogs (but it's been so long since I've really done so that I'm not sure about that). The thought of losing them both for some reason sometimes terrifies me. It happens to people, losing two dogs in a short period of time. Three dogs seems less likely that you'd ever suddenly find yourself dogless, sort of an insurance policy of unconditional love or something.
And I don't think that 3 dogs makes it any more complicated in feeding--I just use dry kibble--or keeping the house and yard cleaned. If I'm going to sweep the floor, it doesn't matter how many dogs have shed on it. If I'm wandering around the yard picking up poop twice a day, it doesn't matter how many individual poops there are.
But expenses definitely go up with a 3rd dog. Half again as much food. Half again as many medical bills. If for some reason you need to board them or otherwise cared for (I seldom do, but sometimes), the expenses are per dog. Same if you have them groomed (I seldom do because of the cost, but would if I could afford it). If you have all of them in classes of some kind, it's per dog.
Overall, I prefer being a 2-dog person. And the odds are good that someday I'll find myself with 3 dogs again. But here's the other thing: Several people have told me that 4 dogs are easier than 3, because you can do everything 2 dogs at a time without one dog feeling left out and making a fuss or being resentful. Huh. Dunno. But just in case you find TWO dogs you really like--well--you can give it a try and let me know.