SUMMARY: Different kind of Saturday competition.
ADDITIONS: After original posting time/date--scroll to bottom.
I'd never entered a crossword-puzzle tournament before, but I do a lot of crosswords, so I thought I might give one a try. Summary: It was fun, and I don't yet know how I did, but I didn't win. Now--compare and contrast to dog agility.
FRIDAY--
Dog agility:
Spend up to two hours on Friday packing MUTT MVR. Another half hour to an hour printing the running orders, making sure I've got copies of my confirmations, directions to the trials, etc.
Crossword tourney:
On Friday, find the registration form that has the address on it.
FRIDAY NIGHT/SATURDAY MORNING--
Dog agility:
Go to bed Friday at 8. Get up at 4 a.m. Don't feel like eating yet. Take the dogs into the yard, no matter the weather, to potty them, & load them into MUTTMVR. Load cold drinks & refrigerable snacks into the cooler. Make sure I have my banana holders to protect my bananas from all the brouhaha. Drive 2 hours in the dark to the agility site.
Crossword tourney:
Go to bed at usual time Friday. Get up at 8 a.m. Enjoy a leisurely breakfast and do the crossword puzzle in the paper. Give dogs breakfast. Grab a soda and a banana. Drive an hour to Alameda. (It's the first rain of the new rainfall year, but I don't have to be out in it.)
Dog agility:
Spend an hour hauling my gear, setting up my canopy and such, walking and exercising the dogs. Sometimes stand in line to check in or get dogs measured. Find course maps wherever they're located.
Crossword tourney:
Park across the street. Walk up the stairs--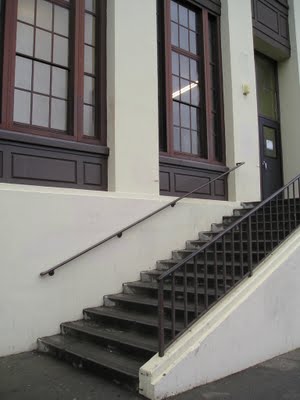 -- and through the door, into the room, pick up my name tag, and sit down anywhere.
Just one round out of about five a day.
(List of competitors in running order)
SATURDAY--
Dog agility:
Negotiate the day's schedule covering hundreds of dogs and more hundreds of runs in 3 rings, keeping track of how far down the running order the dogs in my current ring are so that I can be there on time and not too early, keeping track of whether a ring is delayed or going faster than planned, check back with the gate steward regularly, refer frequently to my multipage catalog to see what class is next and which of my dogs is in first, etc.
Crossword tourney:
Refer to hand-written schedule on wall. From my chair.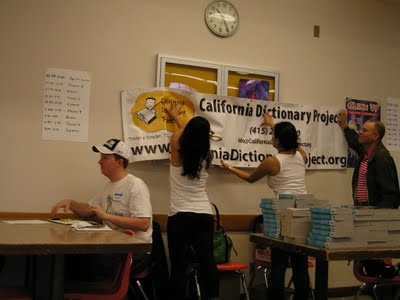 Dog agility:
Work my buns off all day, probably at the score table, but also tracking down equipment, people, answers, and so on. No time to browse the vendors.
Crossword tourney:
Finish a puzzle way early. Go for a stroll and see that the high school woodshop makes and sells dog houses!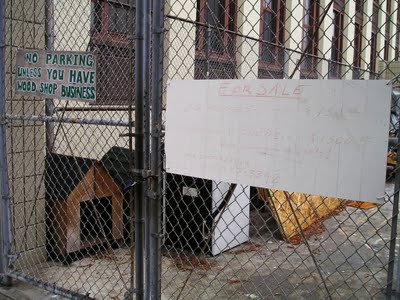 Dog agility:
Get my dogs out regularly to stretch their legs and/or potty them. Play hard before each run, run with them in the ring, cool them down and reward them afterwards. Check their water. Check whether the sun has moved around and their crates need shade. Apply covers to avert (a) Tika barking at passing dogs or (b) Boost throwing herself at crate sides at active dogs.
Crossword tourney:
Browse the students' hallway art looking for pictures of dogs. Here's a painting of a hand painted to look like a doghead.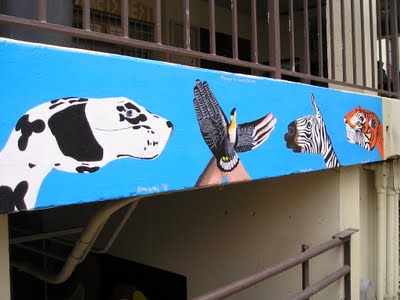 Dog agility:
Admire and pet many other people's dogs as the day goes on.
Crossword tourney:
During one break, stroll around the building and discuss this woman's rescue dogs. And admire them and pet them.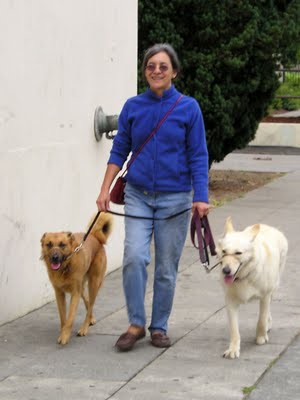 Dog agility:
Fight my way through the crowd around the accumulator sheets and wait my turn to look at the results for the class I'm interested in (typically 4-5 classes each day for each dog). Find my dog somewhere on the *#(!&# accumulator sheet. Figure out our placement (if it's not obvious). Copy down our time & faults & points & the SCT & the yards & the winning dog's score & ... what?...yes of COURSE that's all important!... When I get home, spend 30-40 minutes typing it all into my database.
Crossword tourney:
Wait for them to announce the top 3 finishers. It's not me. Wait for them to post my single numeric score on the web site, sometime in the next few days. [Update later: I'm about in the middle. Very happy with that.]
Dog agility:
Repeat everything for a 2nd full day. Then finish up around 5 or 6 in the evening on Sunday. Potty dogs. Potty myself. Change my shoes and maybe my sweaty socks and shirt. Tear down my canopy and everything and repack the car. Put away all the score table gear. Help tear down and move all the equipment and tables and ring ropes and so on and so on. On the road maybe 7 p.m., exhausted. Maybe take a nap on the roadside on the way. Crash in bed as soon as I get home.
Crossword tourney:
Finish at 3 right on schedule. Potty myself. Drive home. Spend the rest of the day doing fun things. Update blog and photos.
Which reminds me: See a lot of other photos, with a brief story narrative, about my day in Alameda including Victorian homes & other old buildings, cool student artwork, and like that, here at my usual photo site.
ADDITION: Added the next day (Sept 13, 2:00p.m. PDT)--
Dog agility:
(Typical)
* Organization hosting the trial:
The Bay Team.
* Held under rules of sanctioning organization:
USDAA
* Benefits: Bay Team is a not-for-profit corporation. Most profits go back into maintaining our equipment for hosting trials. But we also sometimes do demos for other charitable orgs doing fundraisers, and every year we donate money to one or more dog-related charitable org's.
Crossword tourney:
* Organization hosting:
Bay Area Crosswords
* Held under rules of sanctioning organization:
ACPT
* Benefits: All profits go to
The California Dictionary Project
, whose goal is to supply every 3rd grader with a dictionary.
Dog agility:
Regular celebrity appearances at local USDAA:
Greg Louganis
, perhaps the greatest Olympic diver of all time, competing with his JRTs and now Border Collie. And doing fairly well, I might add.
Crossword tourney:
Celebrity appearance:
Tyler Hinman
, youngest-ever winner of the American Crossword Puzzle Tournament, featured in the film
Wordplay
, and now an unprecedented 5-time champion. Helped run this event and contributed the final puzzle, which will also be next week's New York Times Sunday puzzle.
ADDITION: Added about 30 minutes after original post:
Oh, yeah, one more thing:
Dog agility: cost to enter 2-day agility competition with 2 dogs:
$300.
Crossword tourney: cost to enter one-day crossword tournament:

$20



Dog agility: Entire weekend of quality time
spent with dogs
with lots of excitement and exercise:
priceless.
Crossword tourney: A couple of hours of relaxing time doing something fun and different by myself:
Priceless.