SUMMARY: A survey of demo dogs. Plus napping.
Today a bunch of us are doing a demo for a retirement community where the mother of a friend lives. My parents are thinking about the same place. Maybe. Or not. I hate moving myself, and they've got 40 years in their current home (and the stuff to go with it), so this would be a big decision. Big.
But today is about little. Because the lawn where we do the demo (have done this every year or 2 for a while now) is very tiny, it's hard to demo with big dogs. I took Jake one year, and he was pretty small for a big dog, but even at 13 years old he kept having to screech to a halt to avoid running into a shrubbery. So this demo is best for smaller dogs who have good shrubbage avoidance technology.
Plus my friend has these cute custom-made agility equipments for households with little dogs to practice on--the tire is full-sized but it hangs in this teeny short light-weight frame. Very practical if your dogs never have to jump more than 12". Or 16". Not 26".
So today my dogs are not going; they will hang out here in the predicted 90-ish F (32 C) heat and snooze, like Boost is currently demonstrating.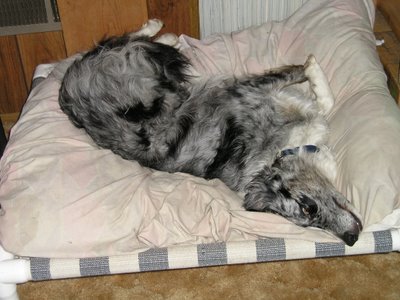 I'm going to be the announcer because I love to blather on about agility, and I won't be distracted by having to, like, run. We like to share info about our dogs when we do agility. This is great stuff.
I will try to post photos later of the dogs I don't already have shots of. Here are their own descriptions; my comment in [square brackets].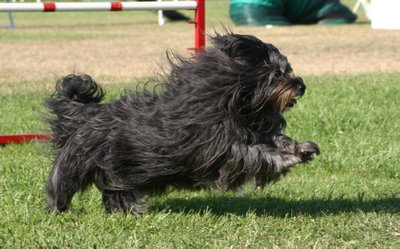 Scully
[maybe Havanese mix] - 13 years old and has been doing agility for 12 years. She finished her 5th agility championship earlier this year and is still competing. The weave poles are her least favorite obstacle and she likes everything else. Scully also has titles in obedience and rally. She has more titles than any dog in the history of Mixed Breed Dog Clubs of America.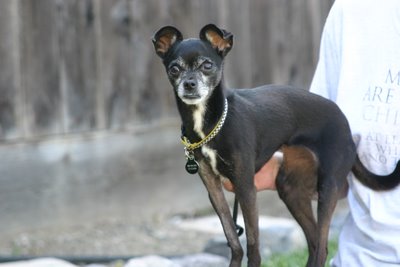 Sparkle
[chihuahua mix] - 5 years old [and about 3 pounds] and has been doing agility all her life. Two years ago she broke her leg while practicing agility but made a full recovery and last month she finished her second agility championship. She has a hard time doing the teeter because she has to go all the way to the end to make it tip. She also has titles in Rally.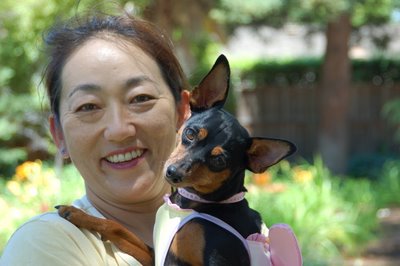 Belle
[MinPin] is 6 years old and she has AAD in USDAA and CL4 in CPE.
I have been with her since she was 8 weeks old.
She is my first ever dog and she is the reason we started agility because she loved to jump and run since she was a puppy.
I like to dress her up and she has more clothes than I do.
A little info on
Bernie
[a tiny beagle]-
He likes snacks!
He has his PD2 and C-ATCH titles.
Meatballs (turkey and beef) are one of his favorite snacks!
He has his P3 Standard, Jumpers and Snooker titles.
He likes salmon snacks - too!
He will be eleven years old in September.
He likes popcorn (so everyone should hang on to their popcorn!)
He had knee surgery two years ago - he did 'doggie' physical therapy - it took about 9 months to recover.
Bernie is my first agility dog - so I'm learning too!
Did I mention he likes snacks??
If you run out of something to say, I think you can mention just about anything related to snacks!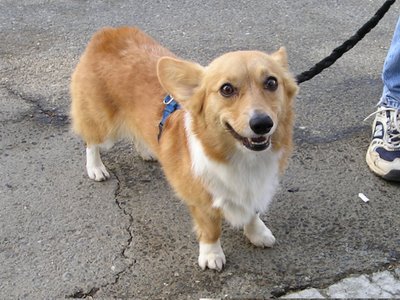 Porsche
[little Pembroke Welsh Corgi], Porsche, also known as the "Porsche Pupster" for you car enthusiasts out there, is 4 years old, been competing for 2 years. Favorite activities are sprinting, eating, and chasing squirrels ... so apologies in advance if she takes a break in the middle of her run to do one of the later two.
[Porsche was the highest-scoring overall 12" dog at the USDAA Nationals last year and was in the Grand Prix and Team finals. Debbie is so modest, she'll say she just got lucky. Ha!]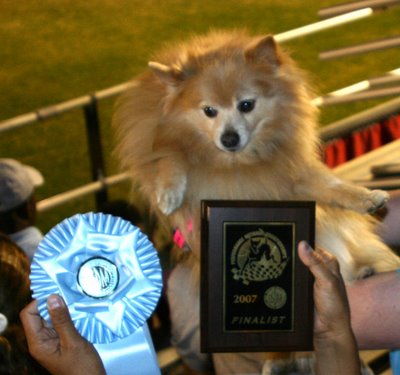 Tahles
(said like tay-less) [Pomeranian with no tail], named after the great Klingon warrior, Tayles is better known as
Tater Tot
. He was a rescue, scrapped off the street after a hit-in-run and brought to the hospital that I work at [hence no tail]. After 1 year of surgeries and rehab, he started working the equipment in our back yard all by himself. He decided that agility was too much fun to miss.
He has been to USDAA National Finals twice and finished 5th and 4th. He held the 60 weave pole title for Poms for about 1 and 1/2 yrs. He is a natural-born comedian and knows he is the center of the universe.
[Provided by Art's spouse:]
Sooner
[Papillon] is Art's second agility dog. They have been competing for 1-1/2 years. Sooner likes to ride in the truck and also enjoys many groceries. He weighs 11 pounds and likes the high obstacles most, like the A frame and teeter. Art lost 60 pounds when he got his first puppy so that he would be agile enough to move with the puppy. Sooner is 3 years old. Art can tell you how old he is.